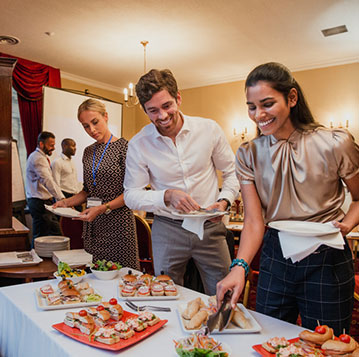 Corporate Event Catering in Melbourne That's Built for You
Catering specifically for your corporate event is about both the food on offer and the services available, which is why we provide a diverse range of options in all these areas. Our catering services include spit roasts, finger food, breakfast and morning teas, buffet meals for lunch and dinner, hot beef rolls with gravy, and a range of other creative food packages.
Our services can help you create a laid back atmosphere for an office breakfast or an end of year party, as well as a more corporate setting for product launches, presentations, and similar events.
The corporate food catering we provide can range from old favourites to refined dining options, ensuring there is something for everyone and every event.
For Corporate Food Catering and More, Get in Touch with Our Team
Superb Catering has a wide range of menu and catering options available to you, and you can explore them all here on our website. We are proud to offer corporate and buffet packs specifically for your corporate needs, providing an option that is both affordable and impressive.
We have worked with leading sporting clubs, government and council clients, international brands, retail names, and much more.
Give us a call today to explore your full range of options for corporate catering in Melbourne.