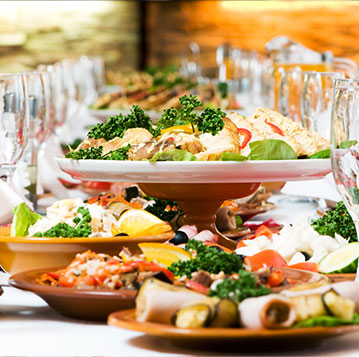 From Finger Food to Spit Roasts to Wedding BBQ Catering in Melbourne
With Superb Catering on your side, you can achieve budget wedding catering that is fresh, delicious, and impressive to each and every one of your guests.
You could opt for a gourmet main meal in the form of a spit roast. When it comes to catering for weddings in Melbourne, the tender, succulent finish of the 13-hour spit roast meat is sure to impress and create a memorable event.
You could also opt for wedding finger food catering in Melbourne to complement or replace your roast. Superb Catering has all the classics available when it comes to finger food, but we can also impress your guests with a range of exquisite and unique finger food offerings. Think fresh oysters, impressive canapés, a selection of sliders, skewers, spring rolls, and much, much more.
Whether you choose spit roasts, finger food, or wedding buffet catering in Melbourne, Superb Catering will also provide a complete range of catering services for weddings. Expect professional service, beautiful presentation and dishes to tantalise your tastebuds when you choose our team.
Food catering for weddings and exceptional services are all part of the package.
The Best Wedding Reception Caterers in Melbourne for Any Budget
Superb Catering will tick every box to make sure the food at your wedding lives up to the day itself. Ask us for custom menus, gluten-free, vegetarian, and other dietary options, wedding wait staff, and all the other special touches that go into catering a wedding in Melbourne. At Superb Catering, we promise to deliver all of this and more.
Whether your wedding reception is in a garden, a home, a park, a hall or another location, you can rely on the Superb Catering team. All we need is a source of power and kitchen facilities and we will come to you. Please note that additional fees may apply for weddings outside our standard service area.
For wedding catering services that Melbourne couples recommend time and time again, contact the wedding reception caterers at Superb Catering now.